4 Reclaimed Wood dining set collections with options to fit all of your needs. Each set includes a free Area rug.
The America Collection is our hand made line of restored wood tables with reclaimed wood table tops manufactured in the U.S. These table tops are available in standard sizes, but can be customized if needed. There are 4 unique colors available and 5 different base styles to choose from as well.  These table tops are made using solid doug fir and feature wide grains, distinctive knots, and circular saw and band saw marks from when the wood was originally milled. The look and feel is more uniform and not as rustic as our Rustic Timber Collection, but has a more unique and distinctive feel than the Farmhouse Collection.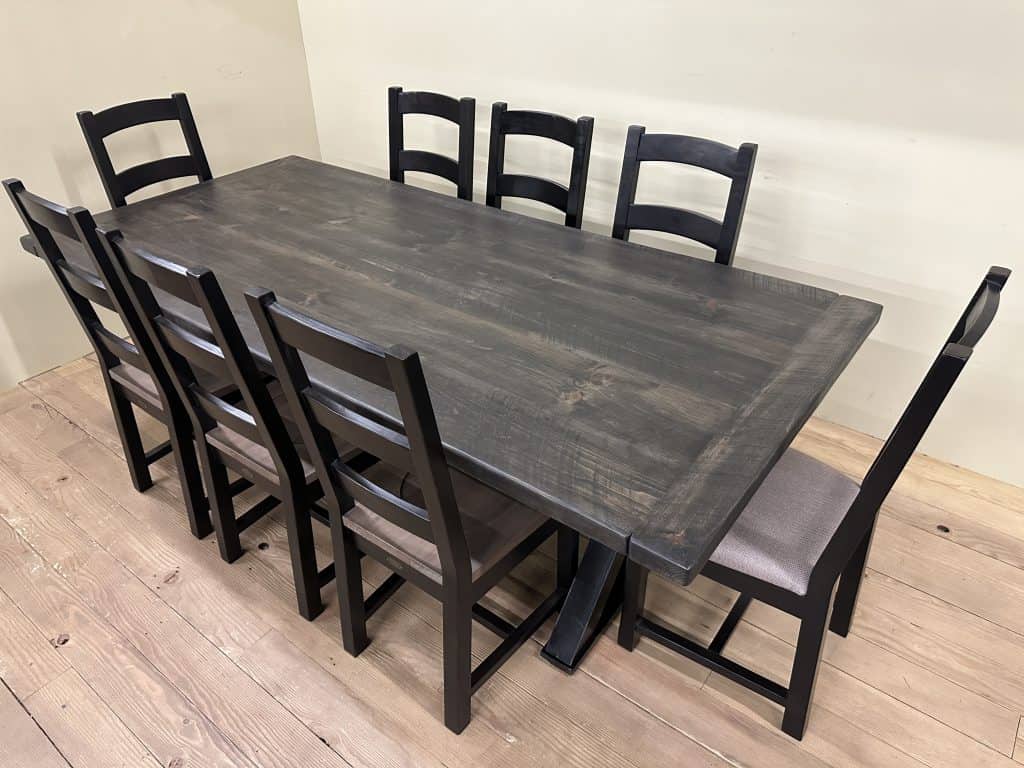 The Rustic Timber Collection
The Rustic Timber Collection is our most rustic and unique line of reclaimed wood table tops.This is an exclusive line manufactured just for us, using our specifications. These tables are offered in a variety of sizes and in a solid 2″ or 3″ thick. There are 3 beautiful colors available to choose from. Each table top can have a variety of wood species, which accounts for the large variations in color and texture. Each one of these tops is truly unique.
Our Farmhouse Collection table tops are a solid 2″ thick, made with solid reclaimed pine. These table tops are cleaner and more consistent in color, texture and appearance than our other collections. They are available in 2 different colors and a variety of sizes. Like our other solid table top collections, there are 5 different base styles to choose from.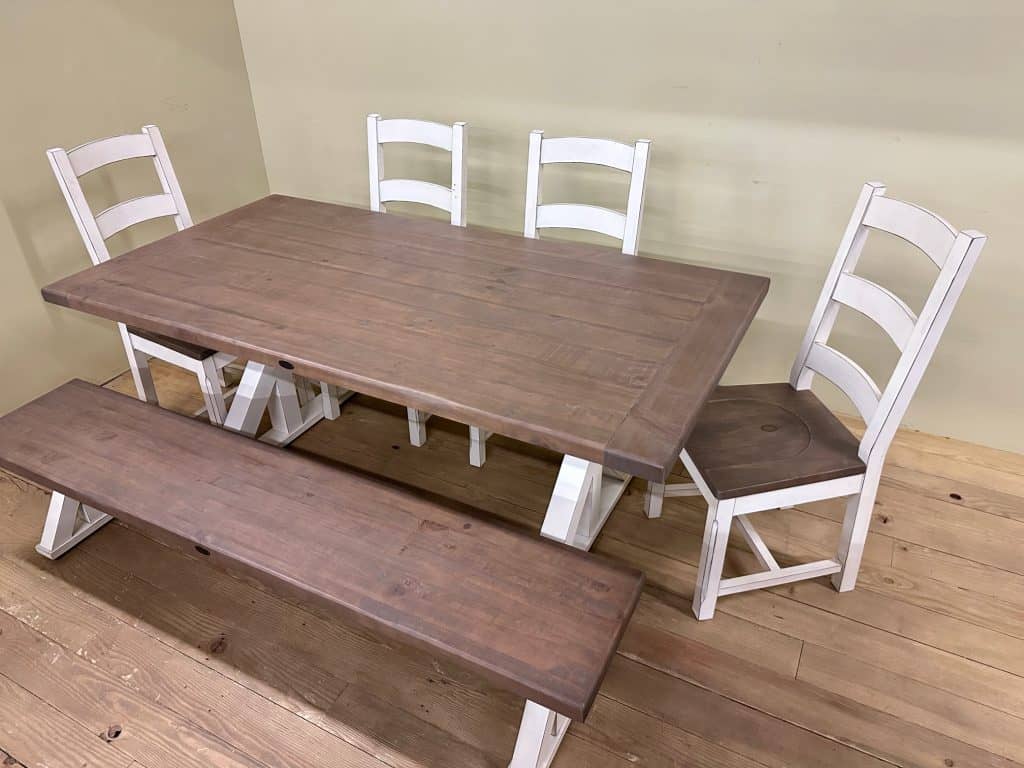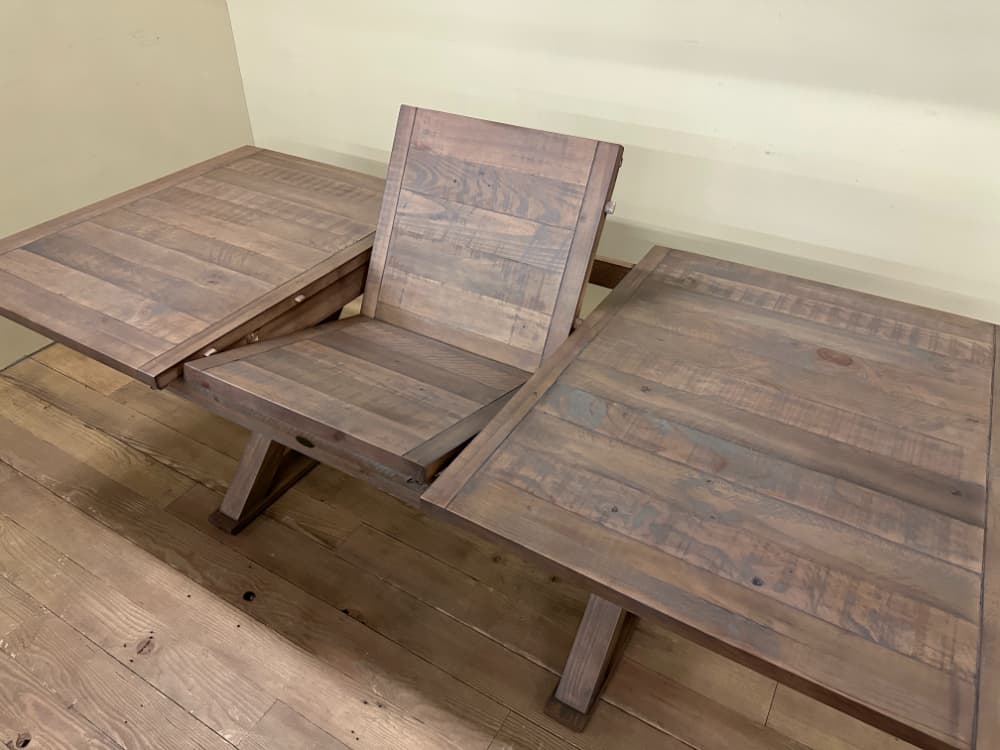 Butterfly Leaf Extension Tables
Entertain a small gathering or invite the entire family over – the Butterfly Extension Table Dining Sets are perfectly suited for your every day dining experience, or easily transform the elegant table to accommodate the whole family for your holiday feast! There are 6 beautiful color combinations available to compliment any room or design preference – choose the perfect size for your dining area and complete the look with your FREE area rug!
Find the perfect piece to accent your new farm table. View our selection of buffets, consoles, hutches, tv stands, islands and bars. All pieces are solid wood with high quality finishes and hardware.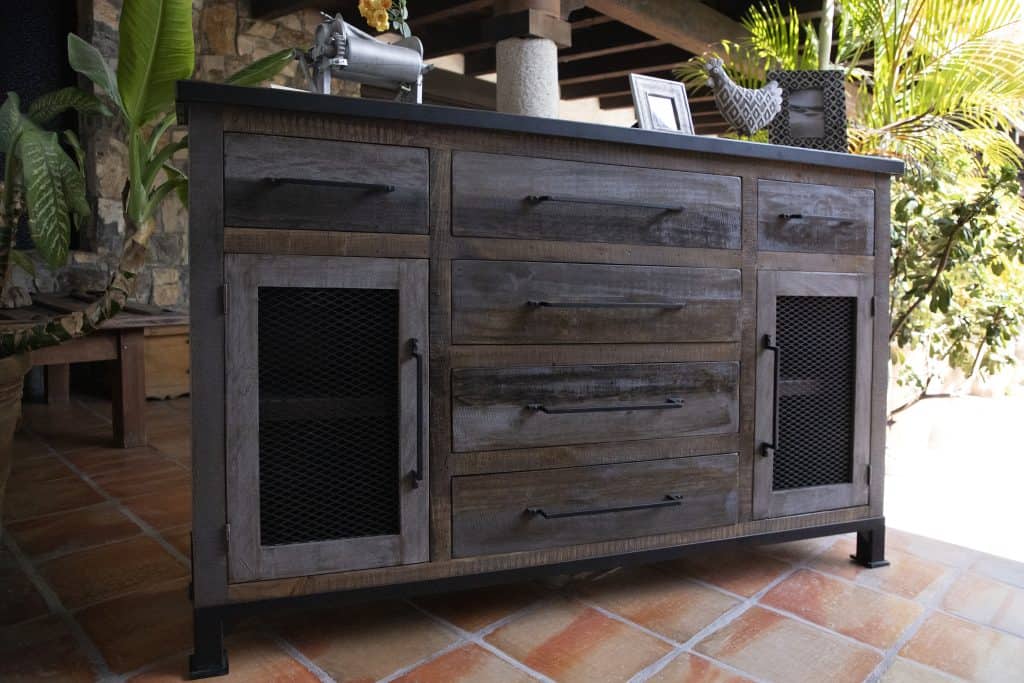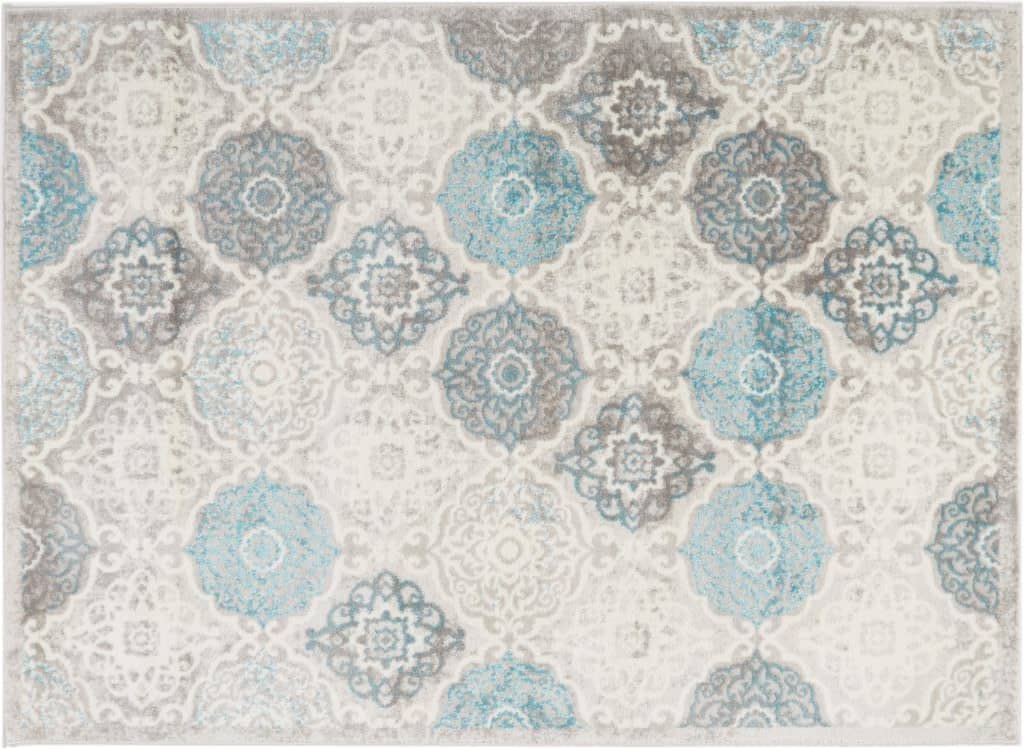 The perfect way to finish off your new dining space is with a free area rug of your choice. Bring in a pop of color or keep it a little more muted and simplistic. Any of these rugs are included with the purchase of a dining set from The America, Rustic Timber, Farmhouse or Butterfly Extension Collections!
easy ways to Buy our Reclaimed Wood furniture
Come explore our 15,000 sq ft showroom. Build your package as you view the largest selection of farm tables made using solid reclaimed wood anywhere!
Can't make it here in person? Get the full experience on our interactive website. Choose your options the same way you would in person, and check out from the comfort of home.
This is your dream table, don't settle for anything less. Increase your buying power with our financing options. Applying is easy right on our website. Get instant approval!
Reclaimed Wood BUFFETS, CONSOLES, TV STANDS, BARS AND HUTCHES
Add a beautiful compliment to your new rustic farm table with a solid wood buffet. Check out our tv stands with sliding barn doors or how about a bar for your man cave to watch the big game.
free area rug With every purchase of a custom dining set
We appreciate your business and want give you a gift as a nice finishing touch to your newly designed space. Many of our dining sets qualify for a FREE area rug. Browse our selection here.